cake pricing
Develop Your Path to PROFIT
At Cake Pricer, our business is helping your business succeed. Effective pricing is a must in the custom cake business and we want to help you understand all aspects of getting your prices right. Just because you are in business doing something you love, doesn't mean you should do it for free. Making sure that your prices pay you for your time and provide profit for the business is what keeps the doors open and keeps you from burning out.
My name is Leisl Kern and I created Cake Pricer while running my own custom cake business, Sunshine Cake Shop, in Murfreesboro, Tennessee.
I see more questions about cake pricing on forum sites than anything else. There are many different pricing solutions out there, and I have tried them all. I never found one that was detailed and automated enough for my needs, so I created my own. It has evolved dramatically over the past several years as I added more and more functionality to fit my needs. It is a business tool that I used on a daily basis to quote custom cakes of all kinds, plus custom cupcakes & cookies.
I hope that cake decorators from all over the world will find it as useful as I did in my business.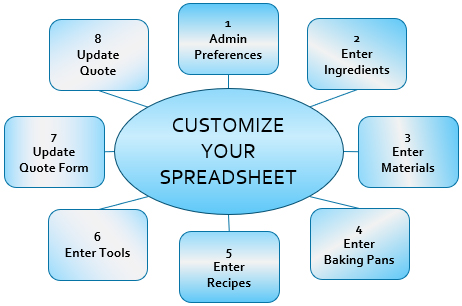 Cake Pricer spreadsheet comes preloaded with many generic items used in cake decorating, but the key to accurate pricing is customizing all of the items to what you use every day in your business.
Our spreadsheet allows you to price custom cakes up to 7 tiers and cupcake/cookie orders with up to 5 different flavor combinations each.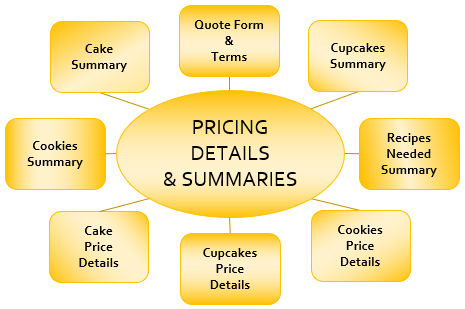 The devil is in the details and we provide a LOT of detail about your cake pricing, all in printable form. In addition, we provide a quote form for you to present to your customer in PDF or printed form.