about our pricing spreadsheet
Cake Pricer is a simple, yet sophisticated spreadsheet to calculate costs and provide information regarding every aspect that goes into making a custom cake, down to the smallest detail.
Our spreadsheet currently only works on the Windows platform.
You enter your own ingredients, recipes, supplies, time, overhead, and profit percentage into the template.
You use the template to enter all details about your custom cake or cupcakes.
Cake Pricer uses your information to give you, not only the price you should charge for the cake, but also all of this:
Per serving pricing for entire cake,
Per serving pricing for each tier,
Details of pricing for individual items on each tier, such as batter, filling, and icing,
Summary of items needed to complete the cake or cupcakes
Summary of the number of recipes needed to complete the order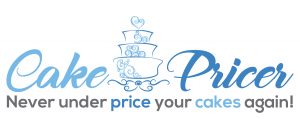 The Cake Pricer spreadsheet
comes pre-loaded with the following items:
Basic ingredients
Sample recipes for cake, filling, icing, fondant, and simple syrup
Standard pan sizes and batter amounts
Popular types of support systems
Different cake box and cupcake box sizes
Different sizes of cake dummies
Additional items, such as icing colors and bags, disposable gloves, and much more!
All of these items can be changed, deleted, or updated with YOUR pricing.
Additional items can be added in each category to make the spreadsheet custom to YOU.
screenshots
Sample cakes
The images below shows sample cakes priced with the Cake Pricer spreadsheet.
It shows examples on each cake of how the price can be manipulated to make more or less profit and higher or lower hourly rates.
You will never have to wonder if you are making $2 per hour producing a cake. Our pricing spreadsheet allows you to decide whether or not to accept a job if you will be making no profit or giving your time away for free.