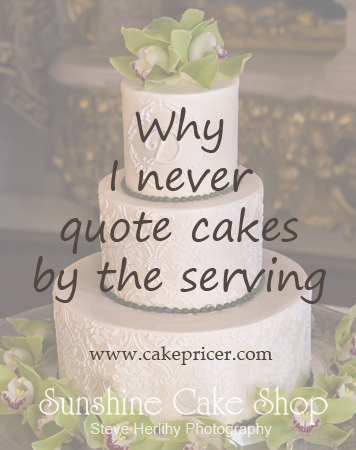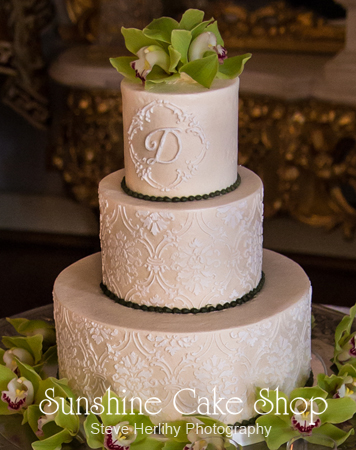 When bakers post on a forum, "What would you charge for this cake?" I often see people post that they would charge $x.xx per serving. I never quote a customer by a per-serving price for several reasons.
Smaller cakes cost more per serving
Just like in a grocery store, a smaller size of the same item cost more per serving. If you quote a per-serving price, the customer can just lower the number of servings needed to lower their price, but the cake itself may take you the same amount of time and only slightly less ingredients to produce.
The cake in the picture above was 10″-6″-4″ cakes, which serves 56. If I price the cake using Almond Cake with American Buttercream filling, the price would be $349.00 or $6.23 per serving.
If I change the sizes of of the cakes to 12″-9″-6″ cakes (and the associated boards to hold the larger cakes) it will serve 100, almost double the number of servings of the previous cake. But the price does not double. The new price would be $410.00 or $4.10 per serving.
This is because icing and stenciling the smaller tiers did not take any less time to decorate and the difference in time to bake the cakes is minimal. The amount of ingredients needed and the prices of the different size main board and cake boards is also minimal.
If you quote the customer $4.10 per serving and they don't want to pay $410.00, then they can just ask for smaller tiers to feed fewer people. So now the first cake would cost $229.60 instead of $349.00. And your hourly rate is now $15.05/hour instead of $20.00/hour and your profit percentage went from 30% to 15%. While that is not horrible, it is an unnecessary loss of revenue.
Flavors matter
What is the difference in these two cakes?
I would price this cake $382.00 or $6.82 per serving.
strawberry cake strawberry jam filling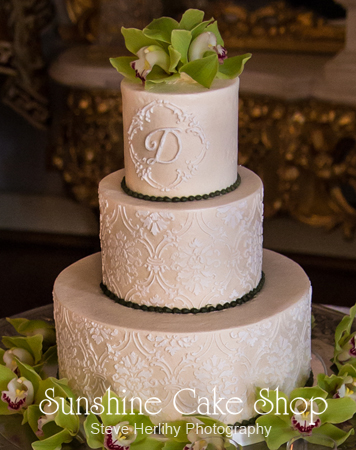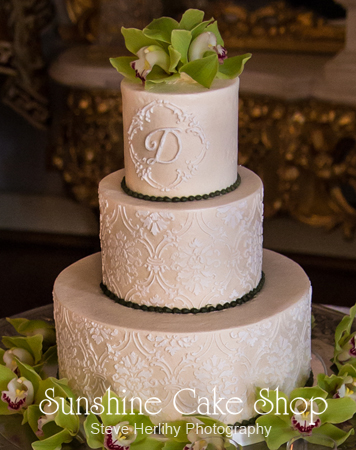 I would price this cake $292.00 or $5.21 per serving.
dark chocolate cake buttercream filling
Obviously this is 2 pictures of the same cake. But imagine that they have different cake flavors and fillings. If I quote a customer a per-serving price for a cake, based on the style of the cake and do not take into consideration what flavors they may choose, I can really hurt my bottom line. In the example above, I would be losing $90.00 on this cake if the customer chose the flavors on the right and I did not feel comfortable re-quoting them with the different flavors. Again, to get to the lower price, I had to reduce my hourly rate from $20.00/hour to $16.95/hour and my profit percentage to 20%. Not terrible, but who wants to take a cut in pay?
Experience makes a difference
When I first started selling cakes I did not take my time into consideration in my pricing because everything I did was new and it took me forever to decorate even a simple cake.
Even with my Cake Pricer spreadsheet, I have to estimate how long I think it will take me to decorate a cake. But since I have more experience, I can do that estimation with more accuracy.
When you ask someone what they would charge for a cake, they have no way of knowing your skill level. They may be able to hammer out a cake in a couple of hours where it might take you double that amount of time to complete.
In addition, when I started out I decided I wanted to charge $15/hour for my time. I knew I couldn't charge for all of my time because I was slow and someone more skilled could do it much faster. So I estimated how long I "thought" it should take a skilled person to do the same cake and charged for that amount of time at the $15/hour rate. I also only charged for 20% profit.
After a couple of years I wanted to increase my prices, so I increased my hourly rate to $20/hour and my profit percentage to 30%. So, me telling someone else what to charge may be way more than their skill level supports.
After using the spreadsheet for a while, I set up templates for myself for generic cakes and quoted customers those prices as a guideline for what to expect. That way I didn't have to do a formal quote for every potential customer. My quote would look something like this:
3-tiers (serves up to 74 if serving all tiers, 62 if saving top tier for the first anniversary)

6", 8", 10" round cakes, stacked construction

Traditional Wedding (Almond) Cake on all tiers

American Buttercream filling on all tiers

American Buttercream icing on all tiers

5/8" satin ribbon on all tiers (optional, but included)

Textured pattern: $340.00 + tax

Smooth or Stenciled pattern: $410.00 + tax
The price could possibly go up with any additions to design or changes in the flavors of the cake. I chose a cake flavor combination that was common, but not my least expensive option. It was also not my most expensive option. It was possible for the price to go down if they chose a less expensive flavor, however I presented this price as the starting point, so they would not be expecting a lower quote.
If you still want to use a per-serving quote to give your customer, you can figure out what your minimum price per serving should be by figuring out how much your recipes cost you and building generic quotes that cover your estimated hours, your overhead, and your profit. Then you can give your customer a MINIMUM price per serving and tell them, "A cake to serve 100 starts at $3.40 per serving, depending on the flavors you choose."
Making sure that your customers understand that your price is a jumping off place, and not a formal quote is one of the keys to not leaving money on the table and under-pricing yourself.